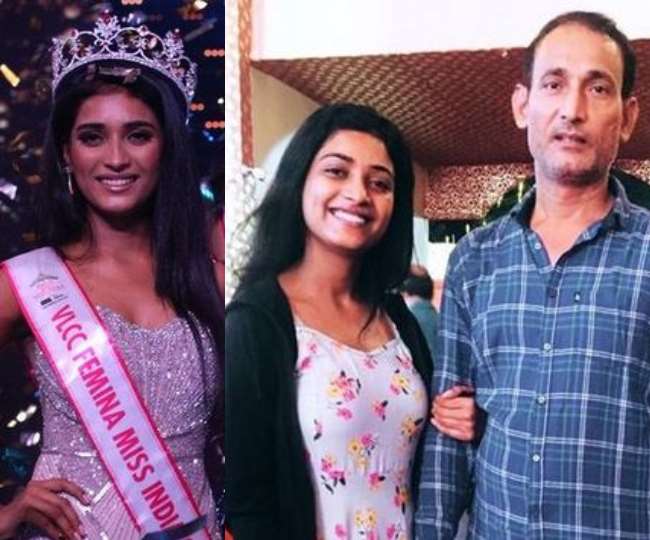 Manya Omprakash life story: Not everyone is born with a silver spoon, especially in a country like India, more than half of the population is struggling with low economic resources and facing the web of patriarchal reliance. However, if you are perciant, hard working with a dash of luck dreams do come true. The story of Manya Omprakash Singh the VLCC Femina Miss India Runner-Up 2020 is one such example.  Manya believed in her dreams, focus and hard work has made her achieve her success and the best part is that the journey has just started. Winning the VLCC Famina Miss India Runner Up is just the 1st step towards a bright future for Manya.
Manya Omprakash Singh Biography
A native of Kushinagar, a town in Uttar Pradesh, Manya was born in a lower-middle-class family. 
Being the daughter of a rickshaw driver, growing up was not easy for Manya. In an interview Manya says "My blood, sweat, and tears have amalgamated into food for the soul and courage to pursue my dreams"  . She talks about countless nights sleeping without food and always wearing handme down clothes. As a society when we see people from lower-middle class families we don't really envision them in platforms like MIss India, beauty pageant content or even stary world of bollywood glam. 
However, Manya is a inspiration to all and also proof that all things are not bad in India. If one is focused they can make things happen. 
Manya Omprakash, in the interview also shines light on the crime against women, thought it was not clear if she has been subjected to it. She says ""My blood, sweat, and tears have amalgamated into food for the soul and courage to pursue my dreams. Being a rickshaw driver's daughter, I never attended a school and started working in my teens. Whatever clothes I had were handed down to me, I pined for books, but luck wasn't in my favor. Eventually, my parents mortgaged whatever little jewellery my mother had to ensure I had paid my exam fees so I could earn a degree. My mother has suffered a lot physically and emotionally. After all, it is not easy to be a woman in Uttar Pradesh; a patriarchal state infamous for atrocities against women."
Further sharing her inspirational journey, she shared that she ran away at the age of 14, however still managed to get an education. She went to school in day and did odd jobs. Even worked as a dishwasher and call center. 
Say says "At 14, I ran away from all of this. I somehow managed to complete my studies in the day, became a dishwasher in the evening, and worked at a call center at night. I've used washrooms on trains and stations to clean myself and have walked hours to reach places so I could save the rickshaw fare. To uplift my father, my mother, and my young brother, here I am today to show the world that all is possible if you are committed to yourself."  . Despite these odd jobs and she was awarded Best Student Award in her 12th class and she also pursued her passion for dancing. In many interviews she stresses the importance of Education and how its the best route towards achieving once dreams. She has a degree in Banking and Insurance from Thakur college of science and commerce in Mumbai. She is now preparing for further education in Management studies.
Manya loves reading books and has a passion for Dancing. Her favourite quote is "Make your own destiny."... and that she has. Her life story surely proves that you can make your own destiny. We here at JagranTV wish her the very best and looking for more great achievements from Manya.