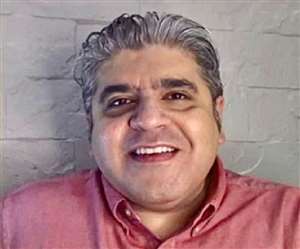 Rajeev Masand Biography:
Famous Journalist and Indian Film Critic Rajeev Masand was tested positive for the Covid-19 virus and was admitted to the Kokilaben Hospital. While the latest reports state that, the health condition of Rajeev has considerably deteriorated and Rajeev has been shifted to ICU and is currently on ventilator support. While various Bollywood actors and other celebrities have wished Rajeev to get well soon including actress Dia Mirza and Nimrat Kaur. The latest reports state that the health of journalist Rajeev Masand is still critical, but he is now responding to the proning technique of breathing. 
To know more about Rajeev Masand, let's continue with the article. 
Rajeev Masand Age and Date of Birth:
13th March 1979, (42 years)
Rajeev Masand birthplace: 
Rajeev Masand was born in Gangtok, Sikkim, India
Rajeev Masand, an introduction: 
Born on 13th March 1979, Rajeev Masand is an India Film Critic and world fort he Noida based English Language news channel CNN-Indian Broadcasting Network (CNN-IBN). Rajeev's day-to-day work usually includes reviewing Bollywood films and major Hollywood films released in India in his weekend show Now Showing.
Rajeev Masand Education and Career:
Rajeev Masand graduated from Mumbai University and started reporting with The Times of India newspaper. Later on, he became an assistant editor at The Indian Express. Rajeev further went on to join STAR News as s special correspondent and the host of his show Masand Ki Pasand. 
While in 2005, Rajeev joined CNN-IBN where he currently works as the film critic and also runs an ongoing video reviews series on the CNN-IBN website known as Masand's Verdict. Rajeev gradually also started hosting CNN-IBN's entertainment series, To Catch a Star. 
Also, an owner of a popular YouTube channel, Rajeev Masand posts his weekly film reviews which are filmed for CNN-News 18's "Now Showing" segments and regular interviews with popular actors and directors from the film industry. 
Other than being an Indian Film Critic, Rajeev also works as an entertainment-industry columnist for various publications including Open Magazine, Firstpost, News 18, The Quint, and also his own initiative, Rajeevmasand.com.
Rajeev Masand Achievements:
Rajeev Masand has been awarded the "Best Entertainment Critic" by the National Television (NT) Awards, in 2008, 2010, and 2011.