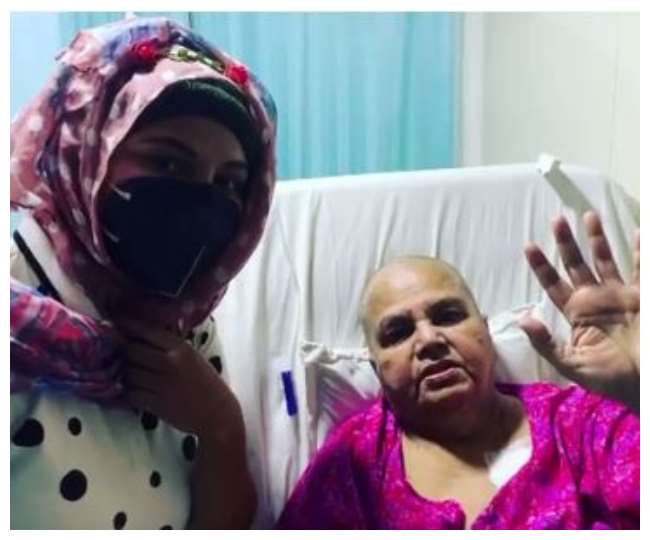 'Bigg Boss' fame and TV's famous actress and dancer Rakhi Sawant is a well-known name in the film industry. Rakhi has recently come out of the 'Bigg Boss 14' house. As soon as she came out of the house, she was in the headlines for the news of her mother's cancer.
Rakhi recently spoke of her mother suffering from cancer. Rakhi also shared a photo of the mother on her Instagram account and asked fans to pray for her. At the same time, Rakhi Sawant has shared a video of her mother from the hospital on social media. Rakhi's mother with ailing health is seen thanking Salman Khan.
Rakhi Sawant's mother is currently admitted to the hospital and undergoing treatment for her cancer. In the video, you can see that Rakhi Sawant's mother has lost her hair due to chemotherapy. In this video of Rakhi, her mother says thank you to Salman whom she calls her son. Not only this, but she was also seen saying thank you to Salman Khan's brother and actor Sohail Khan. 
Rakhi's mother says that her chemo is going on and so far, four chemos have been done and 2 more are left. She further blesses them and says that God will help them and all their wishes will be fulfilled. Rakhi was also seen in the video thanking Salman Khan. Commenting on this video and showing their support, the fans are praying for Rakhi's mother to recover soon.
Earlier, Rakhi Sawant has shared her picture with Salman Khan and has told him as her godfather. In this picture, Rakhi Sawant is seen in a traditional look. While Salman Khan is appearing in a casual look. Sharing this picture, Rakhi Sawant wrote in her post, "My god brother ,king of the king ,one and only ,Salman khan!! God unko sari khusiya de,unko sari murad puri ho."