Sonu Sood Instagram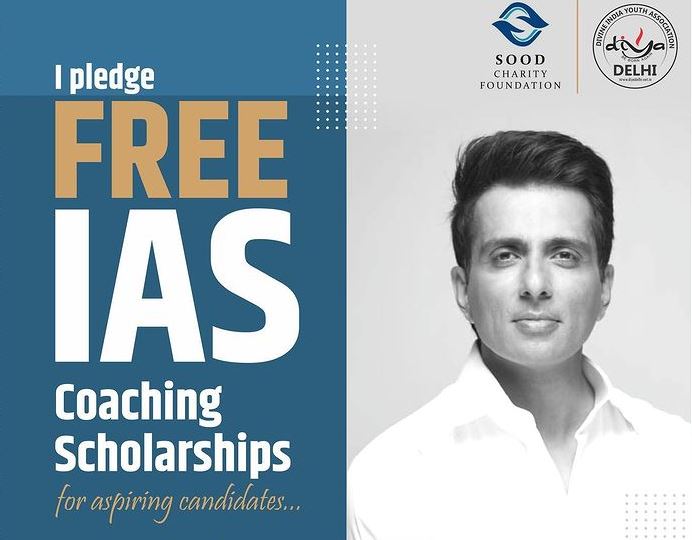 Bollywood actor Sonu Sood has emerged as the real hero for the people during the difficult times of Covid-19. The actor is helping the needy 24*7 and his foundation 'Sood Charity Foundation' is on toes to help people with medication, education and even providing ration. Now after helping in all possible ways, Sonu Sood has started yet another initiative to help the youth of the country to prepare for The Civil Services Examination (UPSC). This initiative will help the deserving to prepare for the examination by getting a scholarship. To build a stronger bureaucratic backbone for the country, Sonu Sood's initiative, 'SAMBHAVAM' will definitely bring the best from the youth. 
Sood Charity Foundation initiative Sambhavam
Few days ago Sonu Sood shared his new initiative 'SAMBHAVAM' under Sood Charity Foundation. This initiative will provide coaching scholarships for the students preparing for the Civil Services Examination (UPSC).  
Sharing the information Sonu Sood Wrote, "Karni hai IAS ki tayyari. Hum lenge aapki zimmedari. Thrilled to announce the launch of 'SAMBHAVAM'. A @Sood_Charity_Foundation & @diyadelhiofficial initiative. Details on www.soodcharityfoundation.org."
 

 

 

View this post on Instagram
For more information about the initiative please visit, www.soodcharityfoundation.org 
Registration for IAS Scholarship
On the landing page, you'll see the highlighted IAS coaching banner. Click on Register or scan the given Bar Code. 
If not opening click here Sood IAS Scholarships 
Click on the Registration Form. A google form will open. (Click Here)
Fill in all the details carefully and double-check. Click submit once you are done.
Last Date for registration 
The last Date for Entries is 30th June 2021.
Please read all the terms and conditions for the scholarship before applying. 
More Than 1Lakh+ applications
Giving an update on Sonu Sood's initiative, the actor recently revealed that his team got more than 1 Lakh applications applying for the scholarship. So if you also want help then you can register by visiting the official website of Sood Charity Foundation. 
 

 

 

View this post on Instagram
Sonu Sood CA Education
Let us tell you that recently, Sonu Sood Started the initiative to provide coaching, internship and education for all the CA pursuing candidates and students. 
Sonu Sood name for Padma Award
Let us tell you that the fans of Sonu Sood have urged the government of India to honour Sonu with Padma Vibhushan for his commendable work in the pandemic. It is reported that this time the central government had sought applications from citizens for Padma awards. Under this, South Star Brahmaji has forwarded the name of Sonu Sood. Sonu's work during the pandemic has made him god for many people and literally, people are worshipping him as a messiah (messenger of God).