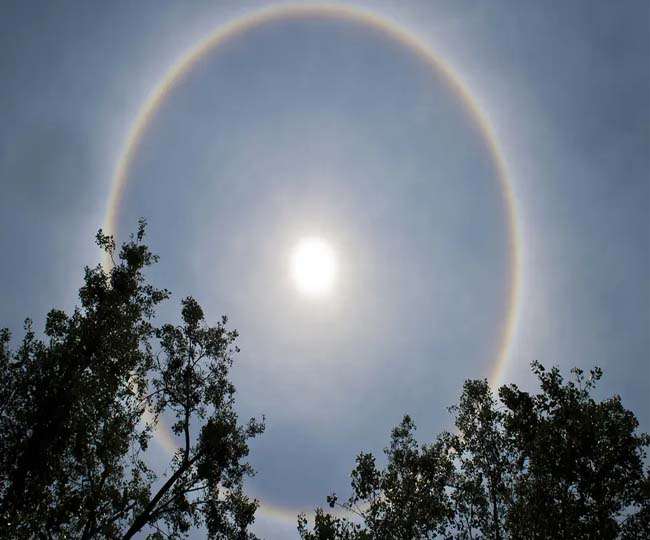 Sun Halo in Hyderabad:
The city of Hyderabad witnessed a rare sun halo today i.e., on 2nd June 2021 in the Afternoon. The sun halo is known as "22-degree circular Halo", which is an unusual optical solar spectacle. And the phenomenon occurs when the sun's or moon's rays get reflected or deflated through the hexagonal ice crystals in the citrus cloud, which is termed the Kaleidoscopic Effect.
The sun could be seen surrounded by a rainbow ring, displaying both red and blue color prominently. The Sun Halo is an optical phenomenon, which can be produced with the interaction of light with suspended ice particles in the atmosphere, and usually occurs in cold regions or nations, and is a rare sight in India.  
The clouds are generally formed when the water vapor freezes to form ice crystals at the altitudes of 5 to 10 km above the earth's surface. It must be noted that Halo is not a rainbow as the phenomenon occurs when a circle having a radius of approximately 22 degrees forms around the sun. And such a similar phenomenon is believed to be common with the moon during the winters. 
It must be noted that Sun Halos can't be predicted, and the people of Hyderabad were surprised to see the sun surrounded by a large ring. They also state that a similar phenomenon has been witnessed with the moon twice, but was the first one with the sun.