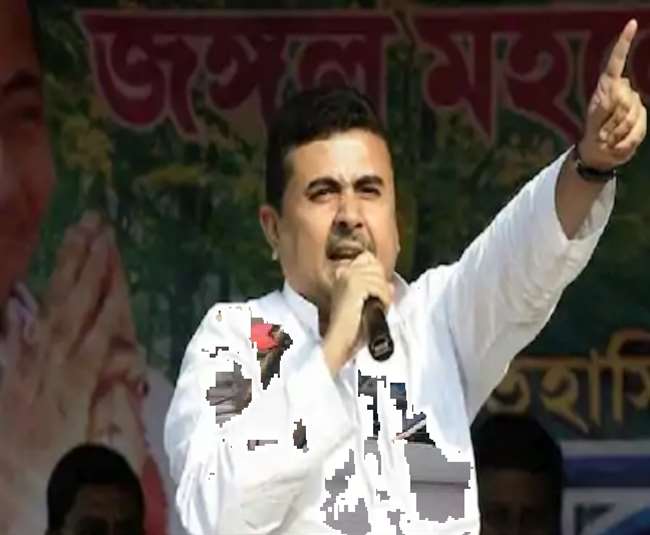 Race to Win Nandigram
The race is on to know the result for the Nandigram hot seat. Where he is opposing Mamata Banerjee the TMC leader and the most popular CM candidate as per the exit polls 2021 by CVoter. Suvendu Adhikari was the right hand man of Mamata Banerjee up until before these election dates where announced. He Quit TMC and join BJP just before elections started and filed his nomination from Nandigram where he has been winning as the TMC candidate. He is considered to be the front runner for BJP and the mastermind to bring a lot of the TMC candidate to quit TMC and join BJP. 
Mamata Banerjee on the other hand challenged Suvendu Adhikari and filed her nomination from Nandigram. Making Nandiram the most talked about the most awaited hot seat this election. Who will win Nandigram will be known tomorrow as we bring you all the live updates. Lets findout a little more about who is Suvendu Adhikari
Suvendu Adhikari Biography:
The blame game between CM Mamta Banerjee and BJP leader Suvendu Adhikari is getting even stronger with the West Bengal Assembly Elections 2021 approaching. The two of them can be seen constantly jibing each other while contesting against each other over the high-profile Nangigram constituency ahead of the West Bengal Assembly Elections 2021, the voting for which is scheduled for 1st April 2021. While both of the leaders can be witnessed carrying out vigorous election campaigns in the Nandigram region for the West Bengal elections 2021. In this article further, we will know more about the current BJP leader Suvendu Adhikari.
Suvendu Adhikari:
Born on 15th December 1970, this Indian Politician Suvendu Adhikari is in the headlines nowadays due to his increasing tiff with the West Bengal CM Mamta Banerjee, the two of them are having a constant fight with each other and have been witnessed using inappropriate words and phrases for each other. Suvendu Adhikari, 50 years old politician is currently a candidate of Bhartiya Janta Party for the Nandigram Vidhan Sabha Constituency. Suvendu has also served as the minister of Transport, Irrigation and Water resource in West Bengal. 
A member of the 15th Lok Sabha and 16th Lok Sabha (2014-2016), as an All India Trinamool Congress (AITC) candidate from Tamluk, Suvendu Adhikari is now a member of Bhartiya Janta Party and is contesting for the 2021 West Bengal Legislative Assembly election from Nandigram against (AlTC) lead by Mamta Banerjee. 
Suvendu Adhikari, who was then a member of the Legislative Assembly from Contai, is credited for galvanising the people of Nandigram under the aegis of the Bhumi Uchhed Pratirodh Committee when rumours of land acquisition for a chemical hub activated a movement.
Suvendu has also defeated CPI(M)'s Lakshman Seth and on 19th December 2020, he resigned from the primary membership of All India Trinamool Congress and joined Bhartiya Janta Party (BJP).     

Personal Life of Suvendu Adhikari:
Sunday Adhikari was born in  Purba Medinipur district of West Bengal to Gayatri Adhikari and Sisir Adhikari, who also is a former Union Minister of State for Rural Development in the Manmohan Singh government. Suvendu's brother Soumen is the chairman of the Kanthi municipal corporation. And his other brother, Dibyendu Adhikari is elected to Lok Sabha in 2019 from Tamluk Constituency. 
Suvendu Adhikari received his education for a Master in Arts from Netaji Shubash Open University and has a net worth of 64.81 lakh ruppees. 
Controversies around Suvendu Adhikari:
Suvendu Adhikari was questioned by the Central Bureau of Investigation in September 2014 for his involvement in the Saradha Group financial scandal. Suvendu was alleged for being in conversations with the company's head Sudipto Sen before fleeing to Kashmir, which was later on rejected by Suvendu. 
Suvendu Adhikari was also targetted for supplying arms to the Maoists to overthrow the CPIM government during the Nandigam movement.