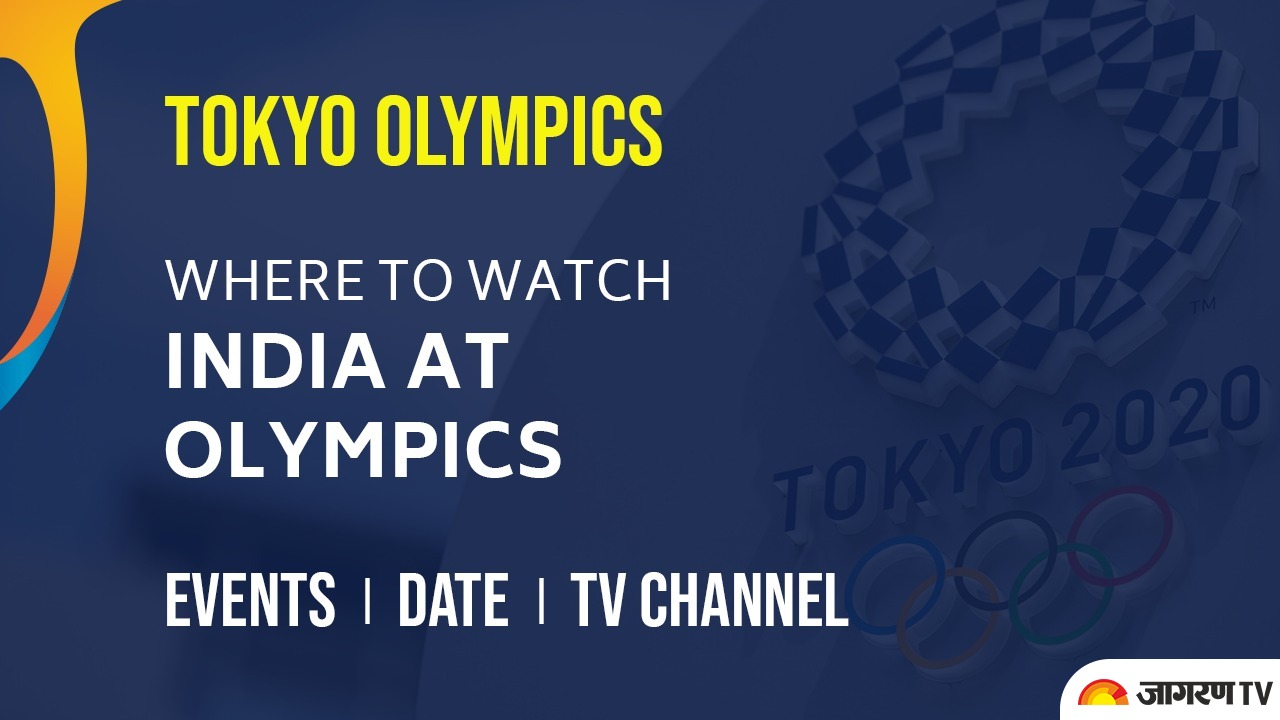 Tokyo Olympics 2020: The  2020 Summer Olympics which are the Games of the XXXII Olympiad titled Tokyo 2020 are all set for their grand opening on July 23, 2021.  The 18 days International multi-sport event is scheduled to be held from 23 July to 8 August 2021 in Tokyo, Japan. While the world will be eyeing the winners and biggest competitions, India is all set to play in Tokyo 2020 with its biggest contingent of 126 athletes. In the last Rio Olympics, India's contingent consisted of only 117 athletes. 
So to all the Indians who are ready to cheer their players on, here is the full schedule, date time and broadcast channel where you can watch The Tokyo Olympics 2020. 
Tokyo Olympics 2020 Opening Ceremony India Time
The Tokyo Olympics 2020 opening ceremony will be on 23rd July att 4:30 PM India time, while the closing ceremony will be on 8th August 2021. 
Tokyo Olympics 2020 Broadcast India
For the Indian audience, the Tokyo Olympics 2020 will be broadcasted live on Sony Sports Network. The Sony Sports Network will broadcast the matches live in different languages as well. The games will also be live on Sony's digital platform Sony LIV.
The Tokyo Olympics 2020 will also be telecasted live on government channel Doordarshan.
Schedule and Timing of Tokyo Olympics 2020 for India 
Below is the detailed date and time-wise list of all the games which are scheduled between 23rd July to 8th August. 
Archery - Tokyo Olympics 2020
23 July  
 Women's Individual Ranking Round (Time: 5:30 AM) 

Men's Individual Ranking Round (Time: 9:30 AM)
24 July
 Mixed Team Pre-Quarterfinals (Time: 6 AM) 

Quarterfinals to Final (Time: 10:45 AM)
26 July 
Men's Team Pre-Quarterfinals (Time: 6 AM)

Quarterfinals to Finals (Time: 9:45 AM)
27 July to 29 July
30 July
Women's Individual 1/8 round (Time: 6 AM)

Women's Individual Quarter Finals to Final (Time: 11:15 AM)
31 July
Men's Individual 1/8 round (Time: 6 AM)

Men's Individual QF to Final (Time: 11:15 AM)
Athletics- Tokyo Olympics 2020
30 July
 Men's 3000 m Steeplechase qualifying round (Time: 5:30 AM) 

Mixed 4X400 m Relay Round 1 (Time: 3:30 PM) 

Men's 400m Hurdles Round 1 (Time: 5:30 AM) 

Women's 100m Round 1 (Time: 5:30 AM)
31 July
Women's Discus throw qualifying round (Time: 5:30 AM)

Men's Long jump qualifying round (Time: 3:30 PM) 

Mixed 4X400 m Relay Final (Time: 3:30 PM)

Women's 100m Semifinals and Final (Time: 3:30 PM)
1 August
2 August
 Women's Discus Throw Final (Time: 3:30 PM)

Men's 3000m Steeplechase Final (Time:3:30 PM)

Men's long jump Final (Time: 5:30 AM)

Women's 200m Round 1 (Time: 5:30 AM)

Women's 200m Semifinals (Time: 3:30 PM)
3 August
Men's Shot put Qualifying (Time:3:30 PM)

Men's 400m Hurdles Final

Women's 200m Final (Time: 3:30 PM)

Women's Javelin Throw Qualifying (Time: 5:30 AM)
4 August 
5 August
6 August 
Women's 20 km race walk (Time: 1 PM)

Men's 4 X 400m relay Round 1 (Time: 4:45 PM)

Women's Javelin Final (Time: 4:45 PM)
7 August
Men's Javelin throw Final (Time: 3:30 PM)

Men's 4 x 400m Relay Final (Time: 3:30 PM)
Badminton- Tokyo Olympics 2020
24 July to 28 July
Men's Singles Group Stages 

Women's Singles Group Stages
24 July to 27 July
29 July 
Men's Singles Round of 16

Women's Singles Round of 16

Men's Doubles Quarter Finals
30 July
Women's Singles Quarterfinals

Men's Doubles Semi Finals
31 July
Men's Singles Quarterfinals

Women's Singles Semifinals 

Men's Doubles Final
1 August
Men's Singles Semifinals

Women's Singles Final
2 August 
Boxing- Tokyo Olympics 2020
24 July to 8 August:
Men's FlyweightMen's 

LightweightMen's 

WelterweightWomen's 

FlyweightWomen's 

LightweightMen's 

MiddleweightMen's 

Super HeavyweightWomen's 

Welterweight

Women's Middleweight
Equestrian- Tokyo Olympics 2020
30 July
31 July
1 August
2 August
Fencing- Tokyo Olympics 2020
26 July
Women's Sabre Round of 64 to Quarterfinals (Time: 5:30 AM to 1 PM)

Semifinals and Medal matches (Time: 2:30 PM)
Hockey- Tokyo Olympics 2020
Men's Hockey Tournament:
24 July
25 July
27 July
29 July
30 July
1 August
3 August
5 August
Women's Hockey Tournament:
24 July
26 July
28 July
30 July
31 July
2 August
4 August
6 August 
Gymnastics- Tokyo Olympics 2020
25 July
29 July
1 August
Women's Vault Final (Time: 1:30 PM)

Women's Uneven bars Final (Time: 1:30 PM)
2 August
3 August
Judo- Tokyo Olympics 2020
24 July
Women's 48 kg elimination rounds and Quarterfinals (Time: 7:30 AM)

Repechage and Final (Time: 1:30 PM)
Rowing- Tokyo Olympics 2020
24 July
25 July 
27 July
29 July
Sailing- Tokyo Olympics 2020
25 July to 27 July and July 29 to July 30
25 July to 27 July and 29 July to 30 July
27 July to 28 July and July 30 to July 31
1 August 
Shooting- Tokyo Olympics 2020
24 July
10m Air Rifle Women's Qualification and Final

10m Air Pistol Men's Qualification and Final (Time: 5 AM)
25 July
10m Air Pistol Women's Qualification and Final

10m Air Rifle Men's Qualification and Final

Skeet Men's Qualification Day 1 (Time: 5.30 AM)
26 July 
27 July
29 July
30 July
31 July
50m Rifle 3 positions Qualification and Final (Time: 9.30 AM)
1 August
2 August 
25m Rapid Fire Pistol Men's Qualification – Stage 2 and Final

50m Rifle 3 Positions Men's Qualification and Final (Time: 5AM)
Table Tennis- Tokyo Olympics 2020
Men's and Women's Singles:
24 July
Men's and Women's Singles Preliminary Round (Time: 5:30 AM)

Men's and Women's Singles Round 1 (Time: 10:45 AM and 4 PM)

Mixed Doubles' Round of 16 (Time: 9:15 AM)
25 July
Men's and Women's Singles Round 2 (Time: 10:30 AM)

Mixed Doubles Quarterfinals (Time: 6:30 AM)

Mixed Doubles Semifinals (Time: 4:30 PM)
26 July
Men's and Women's Singles Round 2 (Time: 6:30 AM)

Men's and Women's Singles Round 3 (Time: 11 AM)

Mixed Doubles Medal Matches (Time: 4:30 PM)
27 July
Men's and Women's Singles Round 3 (Time: 11 AM)

Men's and Women's Singles Round of 16 (Time: 11 AM and 4 PM)
28 July
29 July
30 July
Weightlifting- Tokyo Olympics 2020
3 August
 Women's 62 kg Freestyle 1/8 Finals till Semifinals
4 August
Women's 62kg Freestyle Repechage and Medal Matches

Women's 57kg Freestyle 1/8 Finals till Semifinals

Men's 57kg Freestyle 1/8 Finals till Semifinals

Men's 86kg Freestyle 1/8 Finals till Semifinals
5 August
Women's 57 kg Freestyle Repechage and Medal Matches

Women's 53kg Freestyle 1/8 Finals till Semifinals

Men's 57kg Freestyle Repechage and Medal Matches

Men's 86kg Freestyle Repechage and Medal Matches
6 August
Women's 53kg Freestyle Repechage and Medal Matches

Women's 50kg Freestyle 1/8 Finals till Semifinals

 Men's 65kg Freestyle 1/8 Finals till Semifinals
Golf- Tokyo Olympics 2020
29 July to 1 August
4 August to 7 August
Tennis- Tokyo Olympics 2020
24 July and 25 July
26 July
27 July
28 July
29 July
31 July
1 August
Swimming- Tokyo Olympics 2020
25 July
26 July
Men's 100m Backstroke Semifinals (Time: 7 AM)

Men's 200m Butterfly Heats (Time: 3:30 PM)

Women's 100m Backstroke Semifinals (Time: 7 AM)
27 July
Men's 100m Backstroke Final (Time: 7 AM)

Men's 200m Butterfly Semifinals (Time: 7 AM)

Women's 100m Backstroke Final (Time:7 AM)
28 July